For those embracing their curls or wanting to take better care of their natural hair texture, hair oils can be one of the best products in your hair kit and there are a number of reasons why. Most importantly, almost all hair concerns can be improved by introducing a high-quality hair oil into your routine.
Common hair concerns such as dry scalp, flaking, and itching can all be treated with hair oils. With consistent use, you'll be surprised just how much of a difference it can make to the overall condition of your hair - so what are you waiting for? Packed full of amazing ingredients and great at improving your hair's hydration levels, natural hair oils are a secret weapon!
What Is Natural Hair Oil?
Did you know that natural oils have been used on hair for hundreds of years? Hair oiling as a routine is prominent in Indian and African-American hair cultures as a way of keeping the hair strong, healthy, and hydrated.
Natural oils are unprocessed meaning they are left in their natural state. As a result, they are less diluted so you're left with the raw oil and all of its beneficial properties. Using natural products is always the best option. You need ingredients that work with your hair and are not against it - that's where natural hair oils can help!
What Are Natural Oils Made From?
Natural hair oils are made using fruits, vegetables, seeds, and plants. There are so many different properties of each ingredient that can provide your hair with a much needed boost! Our oils are made with a combination of carefully selected ingredients so you have a multi-purpose formula that your curls will adore!
Why Is Hair Oil Beneficial For Afro Hair?
Hydration is key when it comes to curly and afro hair. Since the hair strands are not straight, it's much harder for the hair's naturally produced oil to travel down the entire length of the hair which often leads to a lack of moisture. However, oils can be used in many ways to rehydrate your hair so it remains in great condition, increases growth, adds shine, and prevents ongoing breakage.
Using natural oils regularly can provide the following hair benefits:
Promotes hair growth and growth retention.
Keeps your scalp well moisturized and dandruff-free.
Provides your hair with essential nutrients to improve its overall condition.
Strengthens the hair from root to tip.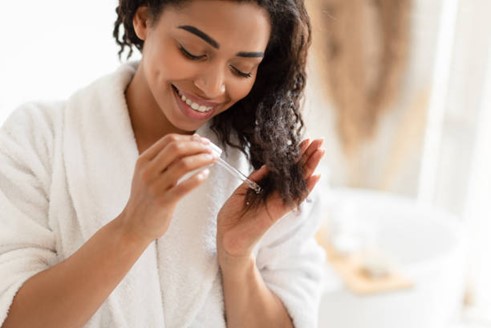 How To Combat Your Hair Complaints With Natural Oils?
You don't have to be suffering from hair concerns to use natural hair oils - although they're great at combatting a number of problems. Natural oil blends contain specially selected ingredients that target a range of different things such as dryness, itchiness and sensitivity alongside improving the overall look and feel of your hair. Sounds amazing, right?
Some of the hair concerns that natural oils can help with include:
Itching
An itchy scalp is no fun at all but it's not uncommon. Itchiness can be a result of product build-up, using incorrect hair products, or dryness but the solution is often very simple. Adding an anti-itch natural hair oil into your hair care routine can relieve symptoms by nourishing and soothing the scalp - results are usually best when oil is applied directly to the scalp and massaged in.
Our itch prevention oil contains ingredients such as Evening Primrose, Spearmint Leaf, and Marshmallow Root that nourishes the scalp to reduce itching, dryness, and bacterial build-up. Not only will your scalp feel refreshed but when your itchiness is treated effectively, you'll reduce scalp damage due to scratching.
Dry Scalp
Often, you'll experience itching due to a dry scalp. Keeping your scalp hydrated is the key to maintaining great curls and when you feed your scalp the right nutrients, the overall condition of your hair will improve. Natural hair oils are one of the best ways of adding moisture back into the hair whether that's using hot oil treatments or applying the oil directly to the scalp.
Afro hair is naturally dryer so oils do a great job at softening the hair's outer layer and allowing moisture to penetrate deeply from the inside out. Keeping your scalp moisturized will do wonders for your hair and keep your curls poppin!
Hair Loss
Hair thinning or hair loss can knock your confidence, but it's important to know that it's not an unfamiliar hair concern. The way you style your hair could be one reason for thin patches of hair, for example, wearing tight hairstyles consistently will create weak points especially around the front and side of your hair. Curls are delicate so you have to be mindful and treat them delicately.
Hair loss can also be down to chemical damage and heat damage, but either way, tailoring your hair care routine to meet your needs will help to restore your hair. Natural oils such as our Honor Thy Crown Hair Growth Oil will gradually strengthen your hair with ingredients such as Pumpkin, Cucumber, Ginkgo Leaf, and Licorice Root to reduce breakage and promote stimulation.
No matter what hair concern applies to you, natural oils are an effective starting point for improving your hair and maintaining it.
Revive Your Curls From Root To Tip With Ella Dean's Hair Oil Collection
Ella Dean is a natural hair care brand for men and women with textured hair. Our natural hair oils are made with carefully selected organic ingredients such as fruits, vegetables, and herbs that promote healthy hair. Whether you have loose curls or kinky coils, our collection is designed to nourish your hair so you can wave goodbye to itchy and dry hair!
We understand that managing your hair concerns can be difficult but with good quality products from Ella Dean, you can help your curls flourish. Are you ready for healthier hair? Check out our collection and improve your hair care routine today!