Looking after curly hair is no easy task, but when you have the right products and a good routine in place, you'll notice a difference in the condition of your hair. But what about at night? Protecting your hair when you go to sleep is just as important as a good wash day routine and no nighttime curl routine is complete without satin scrunchies!
Here's what you need to know:
Why Are Satin Scrunchies Best For Natural Hair?
If you haven't invested in satin hair scrunchies already, now is your chance to do so! Unlike standard elastic hair bands, scrunchies are more delicate on curly hair as the material is soft and silky. Satin also cuts down on friction, especially when taking them out. Some hair ties can rip the hair or cause tangles so not only will your curls experience breakage but with regular use, you'll be encouraging split ends too.
Who knew that the hair ties you use could have such an impact on the condition of your hair?
You should consider switching to satin scrunchies if:
Your curls often get tangled and knotty when using elastic hair ties.
You want something that's gentler on your curls.
Elastic hair ties tend to be too tight on your curls and leave dents across your hair.
You need a gentle accessory to keep your curls neat at night.
Satin scrunchies are not only great for everyday use, but many curlies love using scrunchies to keep their curls less frizzy while they sleep.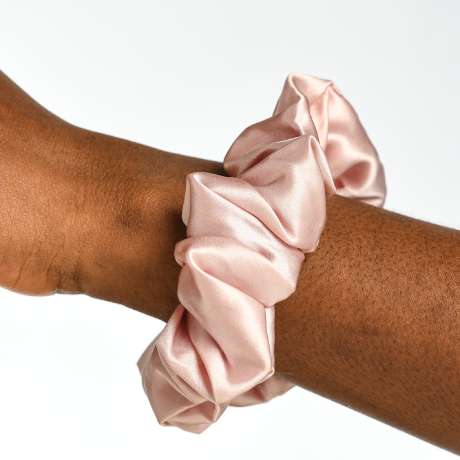 How To Use Satin Scrunchies In Your Curly Hair Routine
When you go to sleep without protecting your curls they will get frizzy, tangled, and lose definition as you toss and turn. Everyone needs their beauty sleep, but quickly tying your hair up in a satin scrunchie is one step that you don't want to miss out on!
Plus, scrunchies can be used on their own or alongside other nighttime hair items such as a satin bonnet, headscarf, or satin pillowcase for added protection. Here's a simple routine that you can follow:
1. For extra dry hair, apply a small amount of natural hair oil to your scalp and massage it in as well as to your ends.
2. Put your curls into a pineapple style by using a satin scrunchie to loosely tie it on the top of your head so you aren't flattening your curls while you sleep. You can stop at this point or use additional protection for even less frizz and keep your curl definition in place for as long as possible.
3. On top of your pineapple, wear a hair bonnet or tie a satin scarf to keep your curls in place. However, if you don't want anything covering your hair then a satin pillowcase is a great replacement for cotton bedding that can draw natural oils from your hair.
If you're looking to preserve your curls at night, satin scrunchies should be your next purchase for healthier, stronger, and less tangled tresses!